Endotrac
Endoscopic Plantar Fasciotomy (EPF)
HEEL PAIN.....WOW ! Now, that is something we see alot of !
The most common cause of "Heel Pain" is "Plantar Fasciitis". And, you can get more details about that, by clicking on our "Home Page". And, going to the left side where it says "Heel Pain" I believe, you will find all you need about "Plantar Fasciitis" there.
Understand, not all heel pain is plantar fasciitis. Treating the wrong problem could be detrimental to your health. I believe, it is better to know what the cause is of your heel pain. Then you will know all the various options, and what is, truely going on. Not all heel pain is treated the same.
Remember, a heart attack can mask itself as indigestion.
Other causes of heel pain can be:
1. Stress Fractures of your heel bone
2. Bone Contusions
3. Reiter's Arthritis
4. Entrapped Nerve
5. Sever's Disease
6. Bone Cysts / Tumors
7. Achilles Tendon Tears
8. Haglunds Deformity
9. Heel Spur

Stress Fracture

Sever's Disease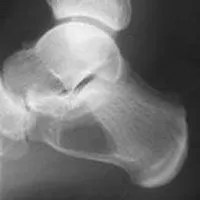 Bone Cyst/Tumor

Heel Spur
Just to mention a few........
Also, children under the age of 15, hardly ever have plantar fasciitis.
Many times, a good exam and X-ray can isolate the cause. Then you can be on your way to a cure without risking your health.
So, if you, or a loved one is suffering from "Heel Pain", don't wait. Give us a call, we can help you get back to normal !